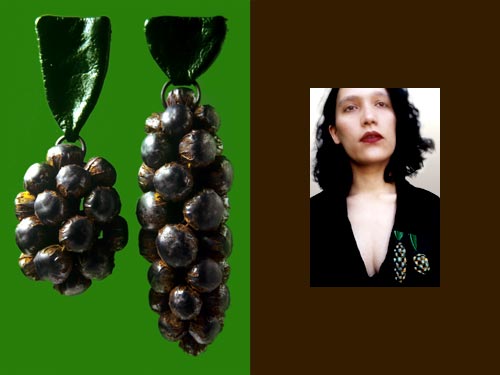 -Médailles merdeuses, broche, cuir, fer-blanc, 2001-
-Shitty medals, brooch, leather, tin can, 2001-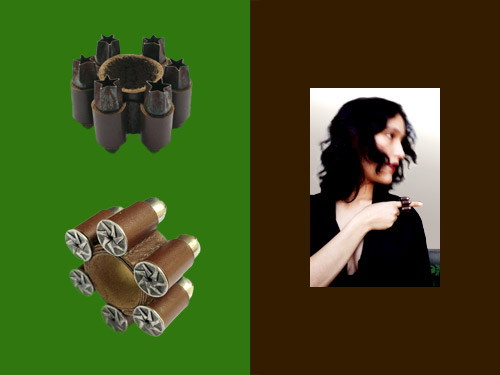 -Mises à l'index, bagues, cuir, fer-blanc, 2001-
-To put on index, rings, leather, tin can, 2001-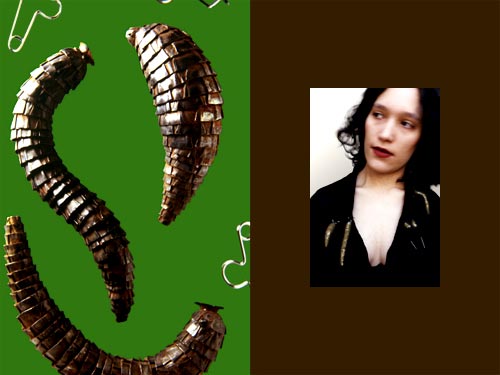 -Vermines, broches, acier inox, fer-blanc, 2001-
-Vermins, brooch, stainlesssteel, tin can, 2001-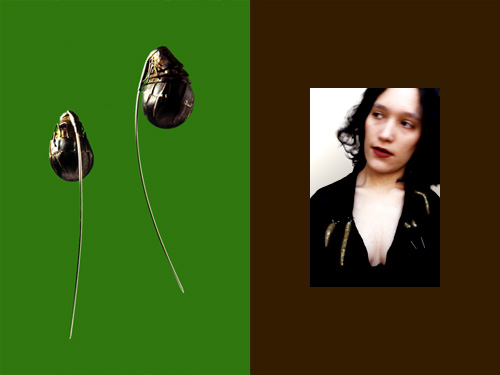 -Puces, épingles, acier inox, fer-blanc, 2001-
-Fleas, pin, stainless steel, tin can, 2004-
-Goldshit, broche, or 22ct, acier inox, 2004-
-Goldshit, brooch, 22ct gold, stainless steel, 2004-
BIJOU SUR LE CORPS OU UNE NATURE MORTE ?
Vermines et autres parasites
Nous occultons leur existence car nous ne pouvons les voir, ils se satisfont de nos chairs et autres excrétions : la vermine. Ils sont l'hymne de nos vies matérielles. Portons nos parasites avant qu'ils ne nous gagnent.
Médailles merdeuses
Bijou, marque de pouvoir ou porte-bonheur ? Il y a le bijou qui se fixe au vêtement comme un tableau qui s'offre à la vue des autres. Il est la marque, le signe distinctif de nos appartenances, de nos mérites, de nos statuts. Il y a le bijou qui s'accroche se coud à l'intérieur de l'habit, plus intime, moins visible, il soigne, réconforte, protège. Voilà une ligne de médailles merdeuses – les deux aspects réunis en décalage à des valeurs établies et en attribut de la chance, une marque d'honneur, une guirlande excrémentielle.
Mise à l'index
La mise à l'index comme signe d'exclusion, qui condamne, avertit, menace. Cette bague barillet munie de projectiles est portée à l'index, devenant ainsi l'expression redondante de cette désignation.
JEWEL ON THE BODY OR A STILL LIFE?
Vermin And Other Parasites
We hide(darken) their existence because we cannot see them, they are content with our flesh and other excretions: vermin. They are the hymn of our material lives. Let us wear our parasites before they overtake us.
Shitty Medal
Jewel, as a sign of power or a lucky charm?
There are jewels we pin onto garments like paintings, only to be seen by others. They are the distincture mark of our memberships, our merits, our status. They are also jewels we pin or we sew inside clothes, in a more intimate, less visible fashion. It heals, comforts, protects. Here is a line of shitty medals – combined to question established values representing luck, an honorific distinction, an excremential garland.
To Put On Index (keg Ring)
Putting in blacklist as sign of exclusion, which condemns, warns threat. This keg ring provided with missiles, she(it) is carried(worn) in the index, becoming the redundant expression of this name.